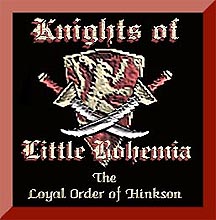 The Membership Roster of

Truest of the True and Believers in Little Bohemia,
Scheherazade presents the Loyal Cadre:

Sir Rick, the First and Most Loyal
Lady LauraLee, of Horrorqb
John, Baron of Tankards, of Lakeside Nature Preserve, Gun Club & Home for the Insane
Sir George of Bohemia, of Beautiful Paintings and Mail Art
Sir Red Fish, of The Red Fish Page
Lord Aylmer, of Psycho Delicate
Sir Eric, of Kent
Sir Jim, of Expand Your Mind
Sir Richard the Web Slayer, of WesternWashington.com
Vistar the Great and Magical, of Weird Sightings: Weird Pick of the Day
Sir Gene the Siteless
Bishop Two Beans, of The Movement Of Obliterating NHGH (M.O.O.N)
Master Eric, of Solace
Sir Timothy, the Bard of Kresky, of The Official Kresky Home Page
Sir Woodhead, of SelfPromotion.com


A Knight of Little Bohemia must possess at least two of the following three qualities:
You must believe in Little Bohemia
You must have a truly great website which Scheherazade really likes
You must convince Scheherazade that you rank among the truest of the true
What does it mean to believe in Little Bohemia?
To have a fine sense of the grand, ironic, epic undertow of life
To know that humor is a necessary element of survival
To feel you have more in common with Peter Pan than with Paul Harvey
What does Scheherazade think is a truly great website?
It must be interesting and original
It must bear the marks of the personality of the owner
It should appeal to her very subjective aesthetic sense ~ or, more accurately, it should not remind her of fingernails on a chalkboard
Who are the truest of the true?
Those who believe that what does not kill us makes us stronger
Those who believe that treading the odd path of the heart is worth the cost
Those who will come and vote for Little Bohemia in awards contests